The threaded end of the wedge anchor protrudes from the surface of the concrete once it is installed, and is the area of the wedge anchor that is being struck with a hammer. Care must be taken not to damage the threads during installation. If proper care is not taken, the threads will be damaged and the nut will lose the ability to be put on or taken off. All threads on wedge anchors are national coarse threads for each diameter. The larger the diameter of wedge anchor being installed, then the larger and heavier the hammer must be.
When installing a wedge anchor, the nut must be threaded on the threaded end of the wedge anchor so that the top of the nut is even with the top of the wedge anchor body. When threading the nut on correctly, the threads will be protected during installation and allow the nut to be removed and then threaded back on. Many wedge anchors are manufactured with a bullnose. This bullnose is a protrusion that extends above the threads with the purpose of having a surface for the hammer to strike without damaging the threads. Although the bullnose feature works very well, it is advised to thread the nut onto the wedge anchor as a precaution to ensure that the threads are not damaged by the hammer strike.
Purchase all diameters, lengths and steel types of wedge anchors at www.confast.com. Each order is shipped complete the same day the order is received from Cleveland, Ohio. See our wedge anchor selections here.
---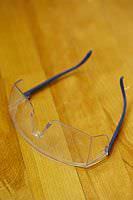 As with any anchoring project, it is important to keep safety in mind and follow instructions carefully. Always remember to wear safety goggles, handle all tools with extra care and follow all technical specifications. This article is meant to serve only as a basic explanation of concrete fasteners. Always refer to manufacturer's instructions or consult a contracting expert during any anchoring project.
Article Written By:
Mike Pistorino, Vice-President Operations
---
Concrete Fastening Systems, Inc. has over 40 years of experience selling concrete fasteners. We can ship out one box or a whole pallet of concrete anchors. Our products are of the highest quality... "your satisfaction is guaranteed". We ship all orders the same day the order is received.