The process used for coating concrete screws with the Climaseal® coating begins with a thorough cleaning and pretreatment. An undercoat of zinc plating is then mechanically applied to the screws. The process of mechanical plating deposits the zinc onto the screw via kinetic energy. The mechanical plating process gives the Tapcons galvanic protection - even if the layer zinc plating becomes scratched. This process of mechanical zinc coating adheres well to the metal to provide a durable shield. A coat of Climaseal® is then applied to the screw in multiple coats using a dip-spin process. The dip spinning process is done through an immersion of the screw into a water-based organic liquid and then spinning off excess liquid. These screws are then sent through a furnace for curing. This curing process is repeated a second time to build up the thickness of the coating. Another layer of corrosion protection is added through an application of a proprietary coating.
The Tapcon® concrete screw with the Climaseal® coating gives excellent rust resistance when used for indoor applications and outdoor applications. Tapcons come in two diameters: 3/16" and 1/4". The 3/16" Tapcon screw requires a 5/32" hole in the concrete, and the 1/4" Tapcon screw requires a 3/16" hole in the concrete. Each box of 100 screws is packaged with the correctly matched tolerance carbide tipped a concrete bit.
Both diameters are manufactured in two different head styles: the hex slotted washer head and the flat Phillips countersunk.
The 3/16" Tapcon come in seven different lengths: 1-1/4", 1-3/4", 2-1/4", 2-3/4", 3-1/4", 3-3/4" and 4".
The 1/4" Tapcon concrete screws come in nine different lengths: 1-1/4", 1-3/4", 2-1/4", 2-3/4", 3-1/4" 3-3/4", 4", 5", 6".
These different lengths are used for different thickness of material that is to be fastened to the concrete. The minimum embedment of a Tapcon® concrete screw is 1" and the maximum embedment is 1-3/4". The threads on the concrete screws are a maximum length of 1-3/4". For example, regardless of the 4", 5" or 6" lengths of the screw, there will still be 1-3/4" of the thread. In order to achieve embedment into the concrete of 1" to 1-3/4", a 5" screw is used for applications in which the material being attached to the concrete is 3-1/4" to 4" thick. Unlike most other types of concrete screws where deeper embedment will provide better holding values, using deeper embedment with Tapcons will create an installation problem. The leading edge of these concrete screws is doing the cutting of the base material, whether it is concrete, brick or block. This cutting action deteriorates the leading edge of the thread and between 1" and 1-3/4" of the base material may deteriorate to the point where it is unable to perform. For this reason, Tapcons should not be embedded more than 1-3/4".
Different base materials may deteriorate the leading edge thread at different rates. Therefore, an embedment of only 1" may be attained when using extremely hard abrasive base material. In some situations, only minimum embedment may be achieved and another choice of the concrete fastener will need to be made.
Tapcon Concrete Anchor
| Tapcon Concrete Anchor Length (Inches.) | Fixture Thickness (Inches) |
| --- | --- |
| 1-1/4" | 0 to 1/4" |
| 1-3/4" | 1/4" to 3/4" |
| 2-3/4" | 3/4" to 1-1/4" |
| 3-1/4"/td> | 1-1/4" to 1-3/4" |
| 3-3/4" | 2-1/4" to 2-1/4" |
| 4"/td> | 2-1/2 to 3" |
| 5" | 3-1/4" to 4" |
| 6" | 4-1/4" to 5" |
When using Tapcons in outdoor applications, it is important to take into account many different factors. These factors include: if the Tapcon® will be in a moist environment if other chemicals are present in the air if it will be submerged in water or other liquids, and if it will be touching or in close proximity to dissimilar materials. Each of these factors may each increase the opportunity for rust.
It is very important to use a properly matched tolerance bit when drilling the hole for Tapcon® concrete screws. The proper bit will be supplied when purchasing boxes of100 screws. The hole must also be drilled 1/4" deeper than the concrete screw will penetrate the base material. This allows space for the material that the threads remove as it taps the base material. If the hole is not drilled deep enough, the material may build up to the point where the Tapcon® screw will bottom out before it is able to secure the material being fastened. If this should happen, it is possible that the screw will over torque and shear off.
Taking all of these issues into consideration when using Tapcons in outdoor applications will reduce the chance of problems and improper installation.
---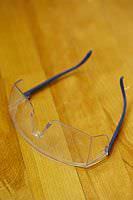 As with any anchoring project, it is important to keep safety in mind and follow instructions carefully. Always remember to wear safety goggles, handle all tools with extra care and follow all technical specifications. This article is meant to serve only as a basic explanation of concrete fasteners. Always refer to manufacturer's instructions or consult a contracting expert during any anchoring project.
Article Written By:
Mike Pistorino, Vice-President Operations
---
Concrete Fastening Systems, Inc. has over 40 years of experience selling concrete fasteners. We can ship out one box or a whole pallet of concrete anchors. Our products are of the highest quality... "your satisfaction is guaranteed". We ship all orders the same day the order is received.